We are taught from a very early age that the path to the American Dream includes at least 4 years of college education. However, we are finding that the debt incurred during many young peoples' college years are tripping them up when it comes to purchasing a new home. The average student graduates with $26,000 – 27,500 in student loan debt. In 1993 only half of students graduated with any debt at all, and those who did graduated with an average of $9,350 ($15,000 in today's dollars). This is forcing many of these students to move back home, thus dubbing them the boomerang generation.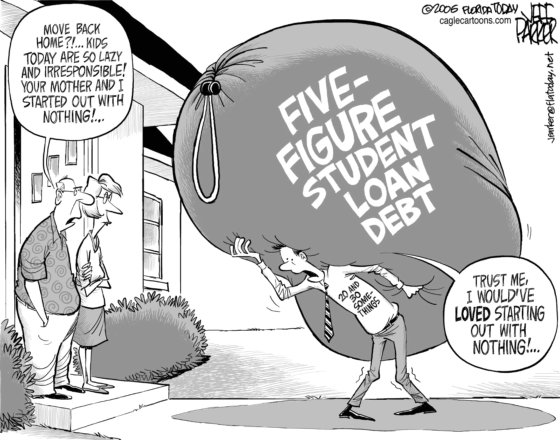 How does this affect this generation when it comes to home ownership? Carrying this kind of debt while trying to break into the job market prevents many from being able to pay rent much less obtain a mortgage. Entry level jobs are not the highest paying, the average starting salary is $45,000. Mortgage underwriters look at debt ratios when making the decision to approve a loan. This kind of debt puts the applicants out of the acceptable range. Thus forcing them to choose between saving and retiring debt. Many are choosing debt retirement. In order to accomplish this they are moving back into their parents' homes.
The economic ripple effect of this phenomenon is fewer first time home buyers, diverting money into retirement accounts, and a decrease in car loans. It even affects other industries, by not setting up new households graduates are not purchasing other goods and services thus further bogging down a sluggish economy.
Even though the damage has been done to the current generation, there is hope for today's high school students and their families. Being more savvy is a must. Some ways to curb the high cost of higher education are starting out at a community college, working while attending college, and searching out and applying for grants and scholarships. Teaching our children the value of saving and deferred gratification will equip them with the ability to achieve the American Dream not only for themselves, but also with a strong economy in the years to come.
Want to read more?
http://www.usatoday.com/story/money/personalfinance/2013/06/30/student-loan-debt-economic-effects/2388189/
http://realtormag.realtor.org/daily-news/2013/04/09/rising-student-loan-debt-keeps-buyers-out